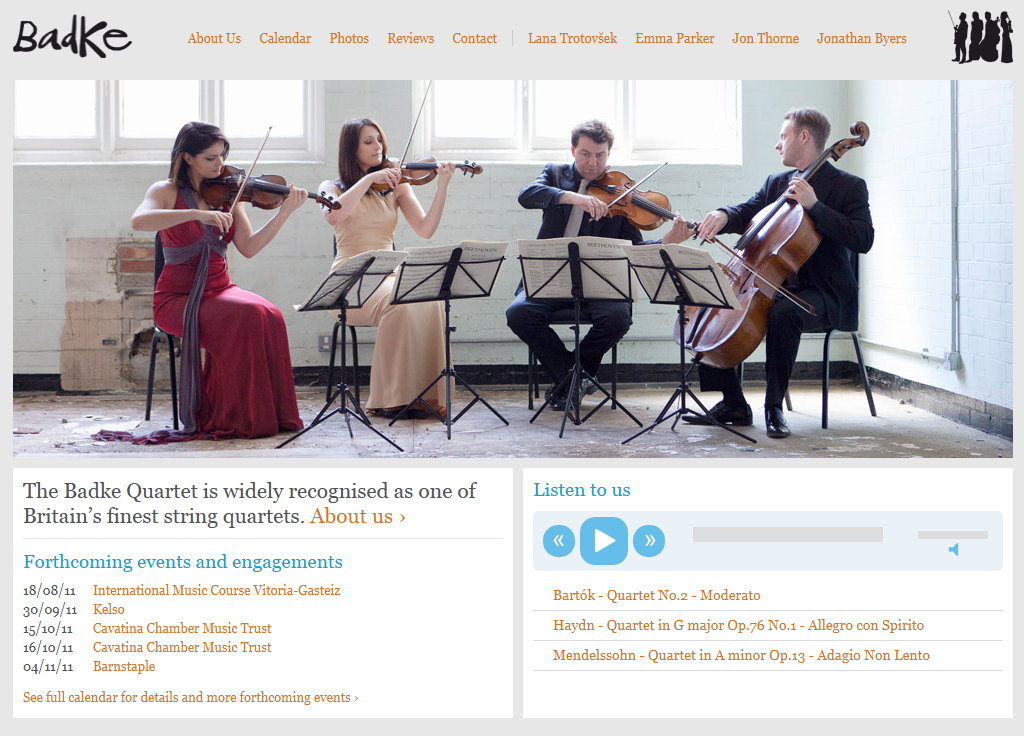 The brief
We had designed and developed the very first Badke Quartet site a few years before, and they returned to us for a redesign, partly to bring the site up to date visually and functionally, partly because of the appointment of a new violin player. They wanted a complete overhaul of the design, without losing some of the key qualities of the earlier version, such as its elegance, ease of use, a balance between classical and modern. And it was to keep the main sections and functionality, including audio player, concert diary, photo gallery and newsletter signup facility.
How we did it
Inspiration
We were lucky to have some very excellent photos of the quartet by Tas Kyprianou as a starting point, and developed an aesthetic to complement their hues, lighting and clean lines. The photos are rightly the major visual element right through the site.
Simple content-management, client peace of mind
Since the first version of the Badke site way back in 2005 there had been huge developments in online content-management software, and it was inevitable when creating the new version that we would integrate WordPress so that the client could update the site contents more frequently and independently. Even the audio player on the homepage is easily maintained within WordPress: adding a new track is as simple as uploading an MP3 through the web-based control panel.
Events calendar
A particular highlight of the site is the colour-coded tabular calendar page, a triumph of intuitive design both from the user's point of view, and the client's point of view, in terms of the way it is configured in the content-management system, each entry being a single item of content to manage, and all the content automatically assembled together in the right order whenever the calendar is viewed.