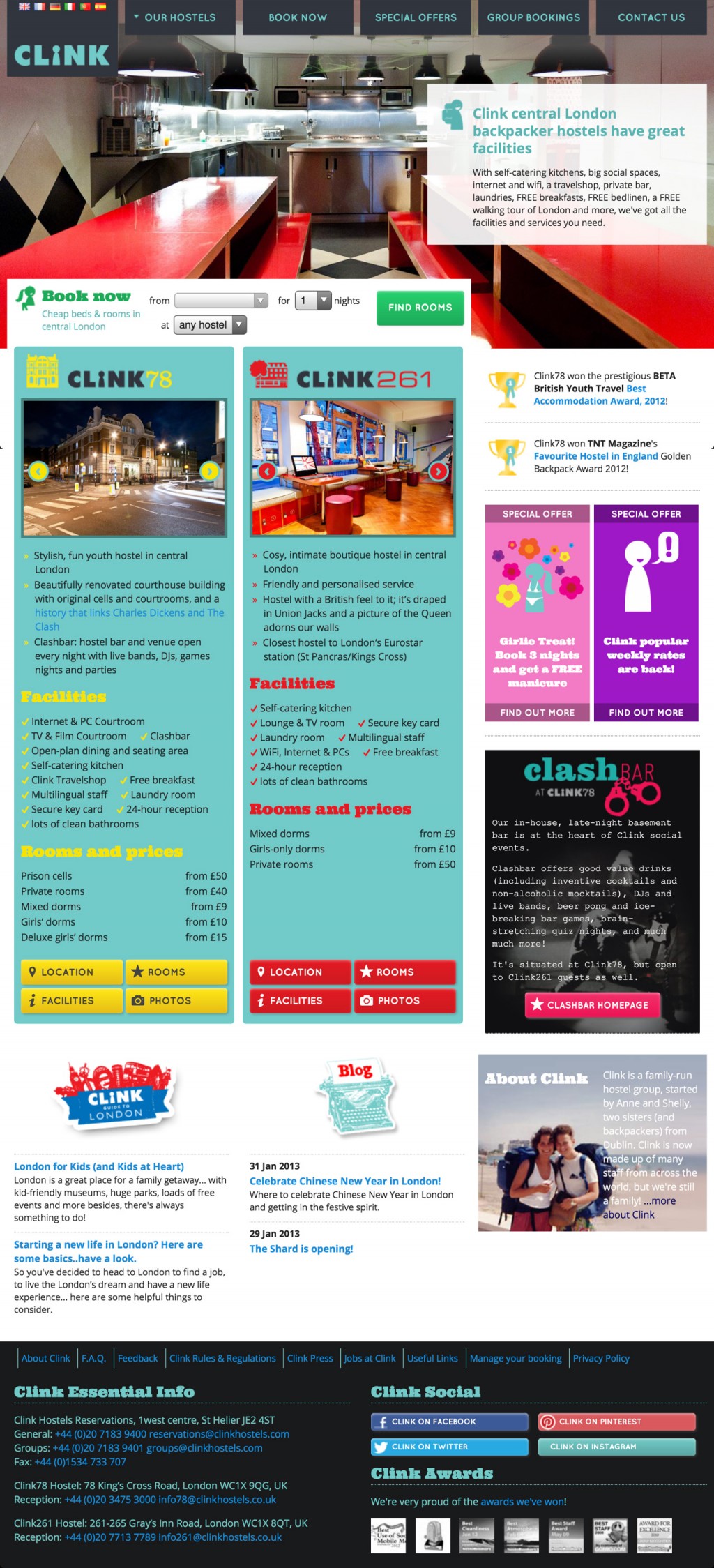 The brief
Probably our longest, biggest project to date, the first version of the Clink website took about a year from start to finish. From the very beginning, we and Berrie, Anne and Nicky at Clink knew it was a massive undertaking: make a website that forces our competitors to totally rethink the websites they've just had made: exciting, yet easy to use; beautiful, yet useful; search-engine friendly, yet well-written for humans; multilingual (6+ languages); responsive across different platforms and devices; easy to updated by staff with different roles and responsibilities; flexible in layout and extensible if the company grew; engaging and informative for both young backpackers and group travel organisers; successful in a very competitive sector; and it must live up to and transmit the distinctive, lively style of Clink's hostels and the friendliness of the staff who work there.
No small order.
What we did
In wireframes and Photoshop mockups, it took months of circling around our initial ideas of a fully responsive, fluid site built up of many diverse component content blocks that were almost infinitely configurable on each page, before we reached a version that met with everyone's approval. We knew we'd be using an open source CMS in PHP, and in the end, three factors drove our choice towards Drupal: the built-in multilingual capability (albeit extended by various secondary modules), the page and block management structure, and the ability to set up custom content types to hold disparate bits of data, text and images for different site elements, all of which could then be extracted using the Views module.
In terms of front end code, the custom theme we wrote for Clink's Drupal installation outputs tidy, semantic HTML5 that's search engine friendly (but always human-readable first and foremost), that makes use of web fonts, employs responsive images to save download time and weight for mobile users, CSS3 styling, Open Street Maps with custom colouring, and more besides.
The site will continue to grow, and is unlikely to ever feel finished, but the response so far has been great. We've been told by Clink that bookings through the site are up compared to bookings through agents (which in turn means more profit margin for Clink) and that the response from guests, staff and the tourism industry to the site has been overwhelmingly positive!