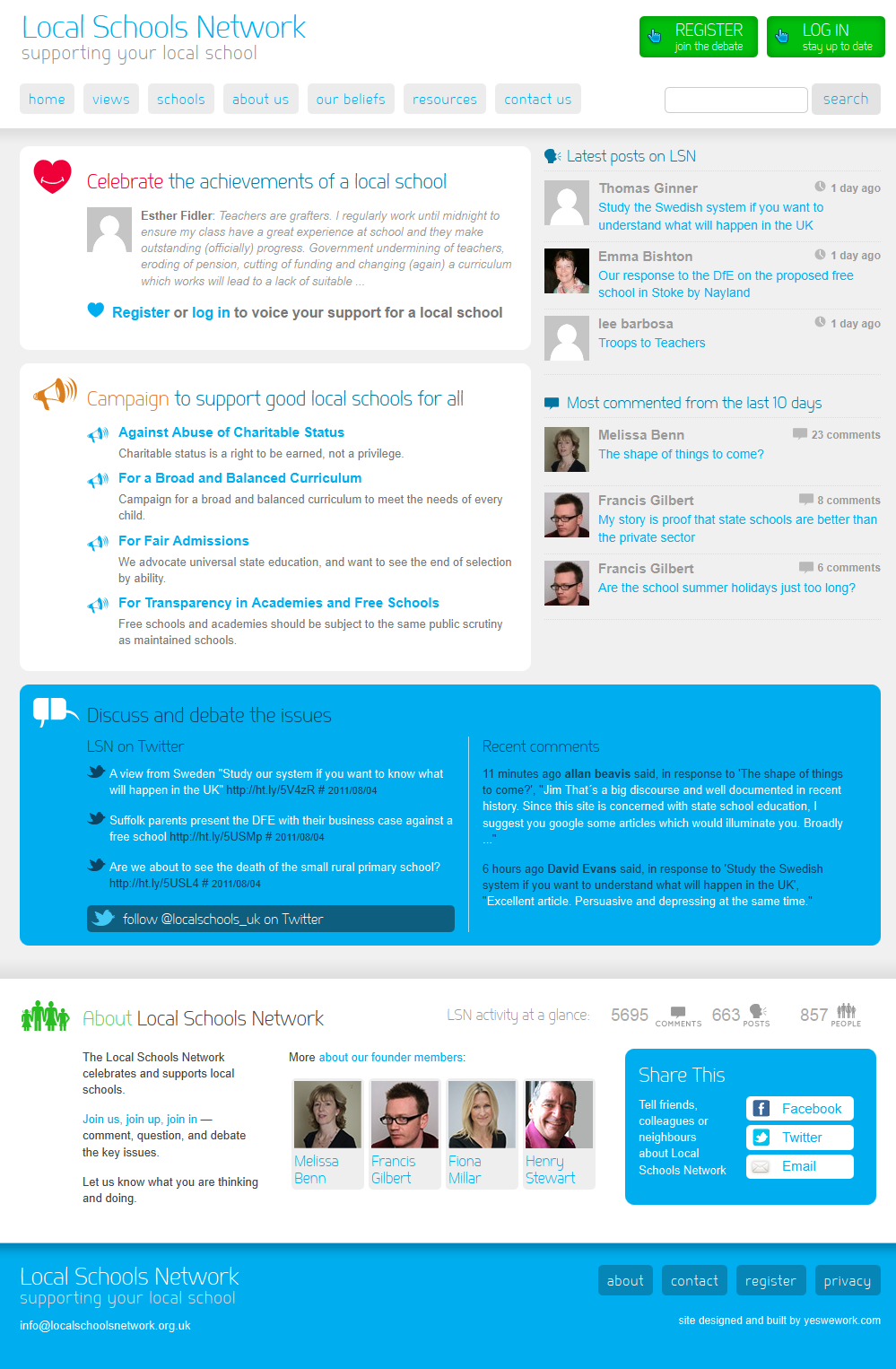 The brief
Late one night in 2010 Francis Gilbert, with whom we have enjoyed a long and fruitful working relationship over many years (through two versions of his own website) emailed excitedly to say that he, along with a few influential colleagues involved in UK journalism, education and politics, wanted urgently to set up a website to campaign against the changes in education policy being introduced by the new Conservative government, particularly in relation to the new policies encouraging and facilitating the creation of privately-run academies or 'free schools'.
The urgency was in part, or so it seemed, due to the emergence not long before of a government-funded charity called the New Schools Network, set up to provide information and resources to anyone who wanted to set up a school outside the state system. Local Schools Network would, in contrast, speak out against the policies behind these new schools and in support of local state education for all.
How we did it
We need it by yesterday…
Apart from anything else, we did it quickly. We launched a feature-complete site just two weeks after it was first commissioned. A record even for us and naturally it involved some late nights, but nonetheless we pride ourselves on being able to work to much tighter deadlines than many bigger agencies, and with no compromise in quality. Not to mention the more personal service that comes naturally when clients can always speak directly to the very people who are doing the design and coding.
BuddyPress
We'd been keeping a studious eye on BuddyPress – 'social networking in a box', it calls itself – since some time before LSN came up, and when we got the commission for a community site where members could post stories and interact with each other, it was a no-brainer that we would give it a try, especially given our extensive expertise with the WordPress platform, upon which it is based. It proved an inspired choice, and as expected gave us an invaluable headstart with the 'social' functionality. On top of this we added a bespoke system allowing users to post their stories and views on the site, using the (now defunct) gPress plugin to allow users to mark the location of any local school they happen to mention in their post.
Ongoing work, iteration and evolution
After launch, the site and community evolved rapidly, and we had to act quickly to adjust the design and functionality accordingly. Post-launch improvements included:
a Campaigns section where specific initiatives can be outlined and related stories grouped together along with relevant links,
a redesign of the layout of the comments section of each story to accommodate a greater volume and more intricate level of dialogue than was initially expected,
several redesigns of the homepage according to the changing cross-section of information being posted on the site and its Twitter profile
Postscript: In 2015 the website was rebuilt by another company, and the ID changed in the process… it's always sad to see your work go, but 5 years was a good stretch 🙂