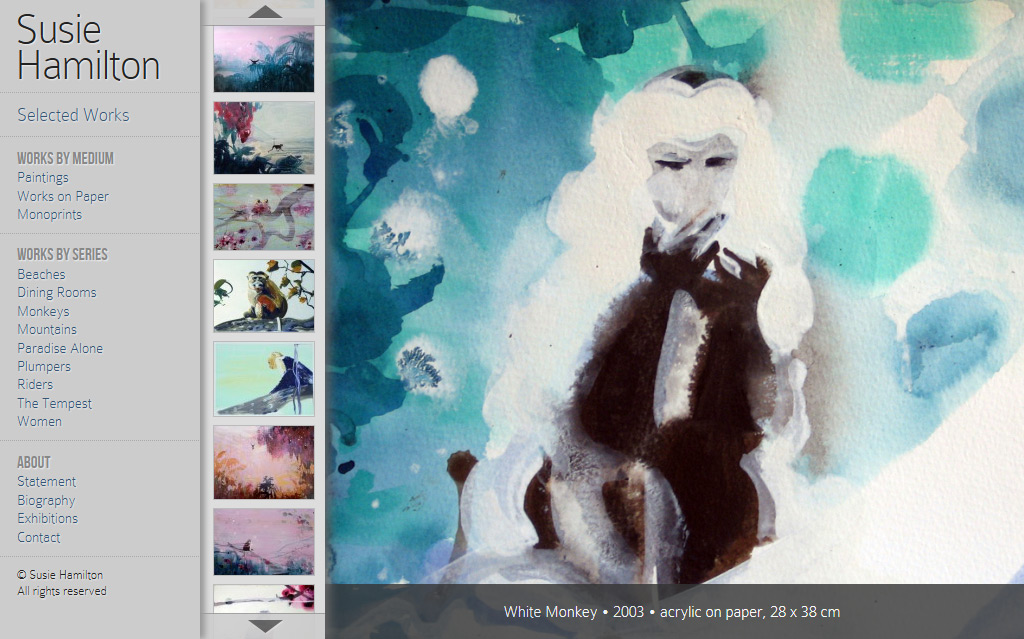 The brief
Susie wanted a website to complement the information already available on her agent's site, in part so that she could publish a more complete archive of her pictures online, as well as photos of past exhibitions and biographical info.
What we did
Putting the work at the centre
We love Susie's work, and it seemed logical that in presenting it online we should try to get as close as possible to the experience of viewing the paintings in real life. So, our layout intelligently adapts to fill all of the space available in the user's browser, whatever size their screen happens to be. Moreover, the initial view of each painting is zoomed in so that it fills every available pixel in the viewable area. That means that what you first see is a detail, but by clicking once on the image it zooms out so that you can appreciate the whole work, framed subtly as if hanging on a gallery wall. We decided that this order (detail by default, full work on click – which arguably seems counter-intuitive) dignifies the pictures more by allowing you – or rather, forcing you – to appreciate them close up first. Were it the other way around (full work first), we suspect people would rarely bother to zoom in. The resulting site is about as close as we think it's possible to get to viewing the paintings in real life.
Client rapport
Our structural concept was clear from the start, and after presenting a few different colour options (mainly to compare a dark and light ground: that old chestnut) Susie was readily convinced. One of the delights of the project, apart from being able to look at such beautiful images all day, was the degree of implicit understanding and agreement that we seemed to strike up with the client right from the outset, such that less than two weeks elapsed from presentation of the initial proposal to handing over the keys to the content-management system.
Easy content-management
Susie manages her content – both images and texts – using an installation of WordPress that's heavily customised for purpose using, in particular, the custom post type and custom taxonomy functionality to create a Works table in the database with corresponding taxonomies for Series and Media (paper, canvas, monoprints). We use the 'featured image' functionality in recent versions of WP to allow the images to be attached to each entry and managed comfortably.